TEAM Summer Invitational
Jun 24, 2022 - Jun 26, 2022
Description
Eugene, OR
LCM
SR1 + SR2 Only (athletes attending Cactus Classic who will NOT attend MAC Firecracker)
Away team volunteers sign up-https://forms.gle/N7VTxsHPz1VZ3auN6 We will be feeding timers snacks and drinks throughout the meet. There are A LOT of timing spots we need help filling. Please encourage your families to sign up for as many spots as possible.
Officials sign up here https://forms.gle/HLgePE3bezpX9zP26 . Please encourage your officials to sign up as we will need a large number of officials for the meet to run smoothly .
Updated Heat Sheets (includes any combined events) : Friday AM, Friday 12&U, Saturday AM, Saturday 12&U, Sunday AM, Sunday 12&U
Psych Sheets for 1500 800 and 400
Top 8 will swim in the finals session, the rest will swim in the distance session immediately following finals. Check out the timeline to see where in finals those heats will swim. We will discuss this more at the coach meeting as well. We will be doing positive check in for these events.
Warm-ups Click HERE for a PDF Lanes were assigned so that there would be about 15-25 swimmers per lane per session. We didn't get many requests for which morning WU session, however if your swimmer's need the earlier 45 min session and you were not assigned that, let us know and we will make a switch. Our goal is to run ahead enough through the day to provide a 45 min for finals. Right now it's closer to 35-40 min.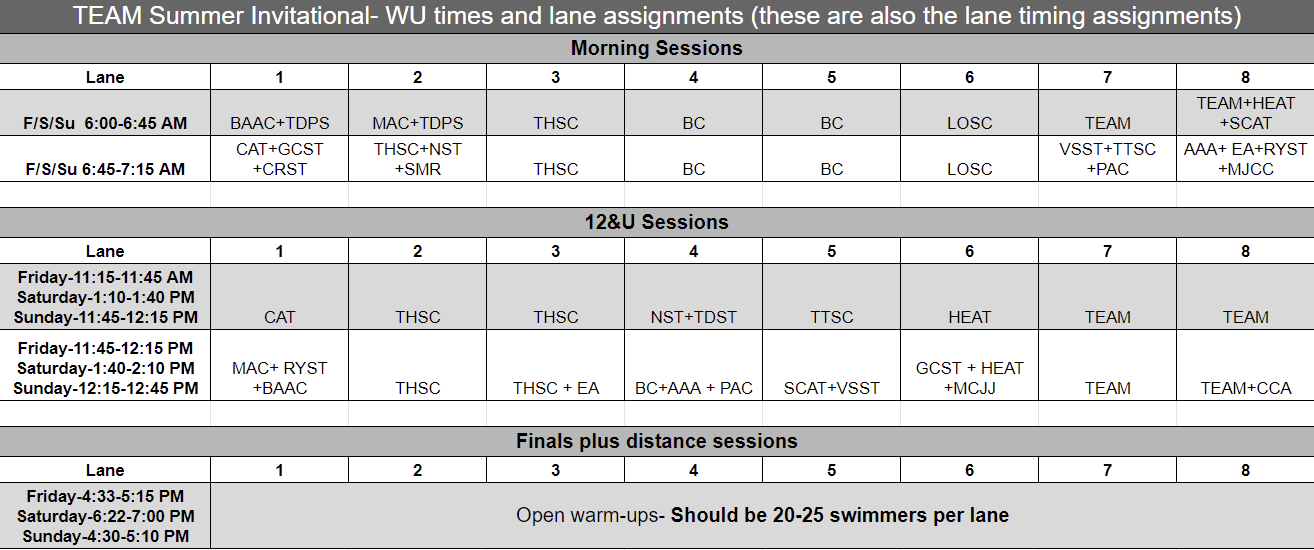 Seating and spectators-there will be a livestream of the event plus a spectators only section of the deck. There are some bleachers but there will also be room for chairs. Swimmers will be on the other side of the pool on the grass. We recommend bringing chairs and a canopy. No tents with a bottom or tarps on the grass. Swimmers may leave chairs and canopies overnight at their own risk.