Ga-Ga 2nd in Medium Team Division at Age Group State!
Following our best-ever finish at the SCY Age Group State Champs back in February, our 14&U swimmers topped that one in the LCM meet held last week at Ga Tech, finishing 9th overall and 2nd amongst the Medium Teams Division. This is our highest ever finish at a State Champs! Individually the team was led in scoring by Issac Saenz, who won 2 events and medaled in 6 others! Marlowe Misner, our next top-scorer, also had a top-3 finish and multiple scoring swims; Graham Simmon and Lauren Diehl also had multiple scoring swims each, and Lindsey Diehl rounded up our individual scorers.
And while our swimmers had plenty of individual highlights, it was our Ga-Ga Relays that really made a difference in the team scoring, and provided some of our best swims of the weekend, including a whooping 8 New Club Records! The 12&U foursome of Lindsey Diehl, Desymber Richie, Marlowe Misner and Hanna Burke broke a record in all 4 of their swims! Not to be outdone, the 10&U quartet of Hannah-Claire Jowers, Grace Fleming, Caitlyn Diehl and Cate Rovie also broke a record both times they were combined! Finally, the 14&U Girls (Haley Burke, Maggie Nguyen, Lauren Diehl, Ava Gawronski) and the 12&U Boys (Nolan Patterson, Graham Simmon, Isaac Saenz) both broke the 400 Medley Record for their age group!
Sa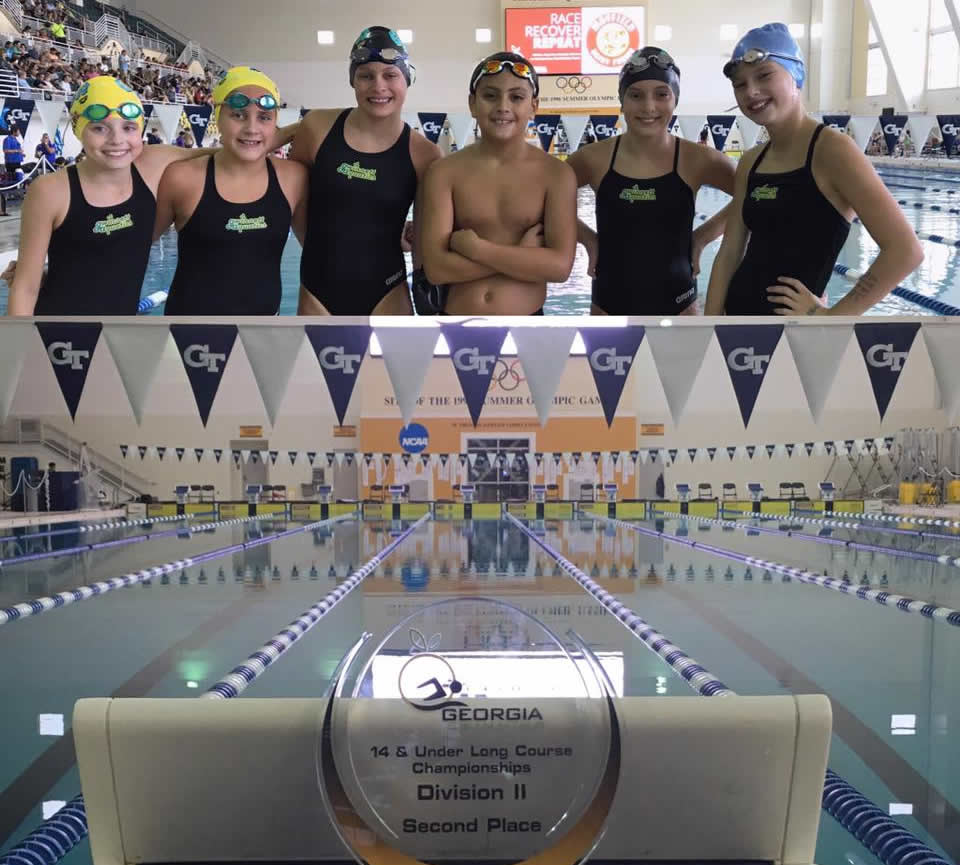 enz picked up his first AAAA(s) of the season and also broke the team record in the 10&U 100 Fly! Simmon picked up his first-ever AAA, and Rachel DeLong picked up her first-ever A time. Simmon, as well as Caitlyn Diehl, Ryan Haskins and Dylan Yin were all 100% best times! For our Age Groupers, this was a great way to cap off a season in which we kept getting better and better, and especially on those older age groups it showed how much of a difference it makes to have a consistent attendance through the season, and especially the commitment to train and follow the plan for the summer season.
And of course, we couldn't mention Age Group State without a HUGE THANK YOU to all our parents (and swimmers) who helped us run the meet! While we struggled a little more this year than in the past to fill-up our volunteer slots, there were quite a few families who gave up so much of their time to make this meet a success: in the hospitality room, as officials, or on deck as times, runners, and a variety of other jobs! Once again we heard tons of positive feedback from other teams, and have maintained our great reputation as an organization that does things right - and deservedly so!
Meet Results | Team Scores | GwinAq Results
Standard Breakers