Dynamo Program Links And Sponsors
January 15, 2018 Newsletter
January 15, 2018 Newsletter
Facebook: Dynamo Swim Club
Twitter: @Dynamoswimclub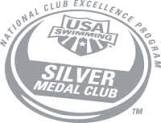 Vision Statement: To pursue excellence in competitive swimming and to be the model 18 & Under club in all operations in the USA, and therefore the world!
A big shout-out and THANK YOU to all of the staff, coaches and volunteers for hosting another successful Eastern Classic. Everyone put in a lot of extra hours and we want you to know it was noticed and APPRECIATED! There were many great swims throughout the weekend as well - way to go team!
The sport of swimming contains many different age ranges, distances, strokes, and competition levels. On top of that, USA Swimming, the national governing body for the sport, provides oversight, training and recognition opportunities for swim clubs around the country. There is a lot to learn and understand, particularly if you didn't grow up swimming.
With that in mind, we thought it would be helpful to re-publish Coach Ian's recent explanation of USA Swimming's Recognition Programs:
*****
As you may know, the 2017 USA Swimming Club Excellence Program results were recently released. For the first time since 2010, Dynamo Swim Club has not been recognized as a USA Swimming Gold Medal Club of Excellence. This year, we find ourselves at the top of the Silver Medal standings, even though we have accumulated more points than most clubs that achieved Gold Medal status. To help our members understand why, I wanted to take this opportunity to explain the various national recognition programs USA Swimming offers, including Club Excellence.
USA Swimming offers the following national recognition programs:
· Club Recognition Program (4 levels)
· Virtual Club Championships (VCC)
· Club Excellence Program (Gold, Silver & Bronze levels)
· Podium Club - clubs that achieve Gold Medal status in the Club Excellence Program four years in a row
The USA Swimming Club Recognition Program offers its club members a working blueprint for developing strong, stable, financially sound and athletically productive organizations. Designed by USA Swimming's National Club Development Committee, this voluntary program presents four levels of achievement across four component areas deemed critical to long-term club success (Level IV is the highest level). These component areas are business/organizational success, parent/volunteer development, coach development/education, and athletic development/performance. Dynamo has achieved the highest level of the Club Recognition Program and is currently a Level IV team.
The Virtual Club Championships (VCC) are essentially USA Swimming's seasonal rankings for its approximately 3,000 club teams. The purpose of the VCC program is to recognize and highlight clubs that are developing athletes and achieving success at multiple levels in the club swimming continuum emphasizing the team element in club swimming. Both Short Course Yard (SCY) and Long Course Meter (LCM) rankings are tabulated using results achieved between September 1 and August 31 each swimming year. The program scores single age groups from ages 11-16 and has a combined 17-18 age group. The great thing about the VCC program is that nearly all athletes in our program can contribute to the team's ranking. After all eligible swims have been scored using the power point system, a team score for each registered USA Swimming club will be calculated. As of December 29, Dynamo was ranked 9th in the country with over 240,000 points. There is plenty of time available to climb the national rankings for both SCY and LCM. I look forward to watching our progress through August 31.
Finally, the Club Excellence Program is a voluntary program that identifies and recognizes USA Swimming clubs for their commitment to performance excellence. This program strives to meet the following objectives:
Promote the development of strong, well-rounded age group and senior swimming programs that produce elite 18 & under athletes;
Provide recognition and resources to motivate and assist member clubs to strive for the highest ideals of athlete performance.
Much like the VCC, times from September 1 through August 31 are used (although only LCM times are used for Club Excellence). Scoring for the Club Excellence program is limited only to the athletes in our program that achieve USA Swimming Junior National qualifying standards. These swims accumulate FINA Power Points that help establish club rankings. However, to be named a Gold Medal Club of Excellence, you must

also

have a world ranked swimmer (top 150 for women and top 200 for men). In short, you need several swims to score points in the program, but just ONE swim determines Gold Medal status. I hope to see our athletes not only strive to help our team at the Junior National Championships, but also challenge the world rankings and again make Dynamo a Gold Medal club.
Considering the events of the last eight months, I remain confident that our program is strong and on the right track. Dynamo is about sustained excellence and one swim in one year will not define us. With that being said, we have an opportunity for improvement in front of us. I am challenging our program to not only re-establish itself as a 2018 Gold Medal Club of Excellence, but to also continue climbing the Virtual Club Championship rankings through August. As with any large endeavor, it takes a village and I thank you in advance for your efforts and support.
Go Dynamo!


Courtney Gantt, a senior who attends high school in Pennsylvania and trains with Dynamo (SR2, Chamblee) when home in Atlanta, has committed to swim and study at Middlebury College.

Congratulations, Courtney!

A man found a cocoon of a butterfly.

One day a small opening appeared.

He sat and watched the butterfly for several hours as it struggled to squeeze its body through the tiny hole.

as if it couldn't

go further.

So the man decided to help the butterfly.

He took a pair of scissors and snipped off the

remaining bits of cocoon.

The butterfly emerged immediately,

but it had a swollen body and shriveled wings.

The man continued to watch it,

expecting that at any minute

the

wings would enlarge and expand enough to support the body.

In fact, the butterfly spent the rest of its life crawling around.

It never was able to fly.

What that man in his kindness and haste

The restricting

cocoon and the struggle required the butterfly

to get through the opening was a

way of forcing the fluid from the body into the wings so that it would be ready

for flight once that was achieved.

Sometimes struggles are exactly

what we need in our lives.

Going

through life with no obstacles

We will not be as strong as we could have been and we would never fly.

Team Dynamo sends condolences to the family, friends, and teammates of

Jimmy Bried

, a 17-year old who grew up within Georgia Swimming. To learn of ways to support his family, click

here

.

Upcoming Meets

& Deadlines

January 19, 2018

January 19, 2018

February 4, 2018

February 10 - 11, 2018

(GT - McCauley Aquatic Center)

Dynamo: Proud Partner

for the

2018 TYR Pro Swim Series!

Dynamo is proud to partner with USA Swimming and Georgia Swimming to bring the 2018 TYR Pro Swim Series to Atlanta on March 1-4, 2018 at the Georgia Tech McAuley Aquatic Center.

The TYR Pro Swim Series is the fastest swim series in the world and will showcase some of the world's greatest swimmers, including a long list of past champions and legends in the sport of swimming.

Click here for more details and Mark Your Calendars - we will need many volunteers for this exciting event. Dynamo is awarded hosting opportunities for these big meets because we are known for doing such a thorough, professional job.

Questions About

Your Account

Questions about your account, please contact Brian Wrighton, our billing coordinator.
Dynamo Swim Club
3119 Shallowford Rd
Atlanta, GA 30341

5075 Abbotts Bridge Rd
Johns Creek, GA 30097
Copyright © 20XX. All Rights Reserved.