GaGa 7th at Eastern Classic
Gwinnett Aquatics Seventh at Eastern Classic, 11-14s Kick off year at Coaches Invite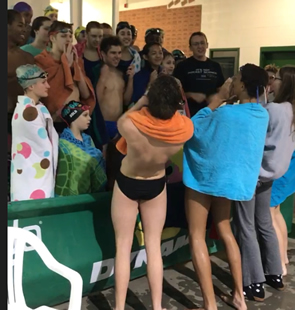 1/15 - Gwinnett Aquatics started the new year with squads at two different meets: the Eastern Classic at Dynamo and the Coaches Invite at Mountain View. At Eastern Classic our small squad took seventh matching our highest finish and scoring the most points ever. Grant Deckers and the 11-12 boys led all scorers. He combined with Sarah Jahns (the only event winner), Juliana Carey, Drew Grier and Griffin Hammett as the team's five medalists and 10 other top-10 finishers while 19 others contributed individual scoring swims. Nolan Patterson got his first AA of the season. Jarod Disher and Graham Simmon got their first As, while Carly Miller got her first BB time.
Meanwhile at the Coaches Invite Ella smith got her first A time while Ella Moulder and Kylie West got her first BB times and Delaney Benford her first ever B time.
Between the two meets David Duong, Nia Fraser, Ryan Haskins and Ethan McKinsey got their first state cuts.
Eastern Classic Results | GwinAq Results
Coaches Invite Results | GwinAq Results
Standard Breakers