Athletes who are most successful start to train with a dream in mind. They have a specific, long-term goal that is personally meaningful to them. They nurture their dream nightly by vividly imagining themselves living it, performing that way and reaching that goal. Their big why drives them to get up early, train hard and push through setbacks, obstacles and failure. Having a big why will give a direction to your training. It will keep you motivated and focused. Without an emotionally compelling goal to drive you, it's easy to get lost and lose interest. Your big why should belong to YOU and no one else! In other words you should go after that goal for you, not for your coach, parents or teammates. You should get in the habit of taking your big goal with you every day to practice. This will keep you focused, give you a purpose and help you get the most out of each training session. ! Before each practice you want to ask yourself, How is what I'm going to do today going to help me get closer to my big why? By doing this you won't get caught in the trap that most athletes fall into of complaining about practice. (I hate this drill Coach! Why do we have to do this?) If you have a big, personally meaningful goal, then you will take responsibility for making your practice a good one, regardless of the way the coaches run the training.
-Dr. Alan Goldberg
---
PVS LC SENIOR & JUNIOR CHAMPIONSHIPS…this was an exciting weekend of great swimming and competition as a team!
We Broke 3 Individual Team Records:
Michael Coppola broke the four year old record in the 15-18 & nine year old record in the OPEN 1500 Free crushing both records with a 17.56.70.
Gavin Bock lowered his previous record in the 50 Free with a 25.97.
The Following Swimmers Achieved Time Standard Improvements:
Michael Coppola: AA-1500 Free, 800 Free
Ella Mcomber: AA-100 Back
---
PVS 14 & UNDER CHAMPIONSHIPS…everyone was burning up the lanes at 14 & Under Championships, posting many best times and making a great showing at finals each ​night. The TEAM was represented well with a lot of heart and dedication making it possible for us to swim to a 1st place finish in the MEDIUM Team division!, scoring 114 total points! It was a true TEAM effort in placing so high.
We Broke 6 Individual Team Records:
Andrew Char broke the four-year-old record in the 11-12 200 Free with a 2:20.85. He also lowered the two-year-old record in the 11-12 100 Breast with a 1:24.92.
Nathan Bruley took down the nine-year-old record in the 11-12 100 back with a 1:14.17.
Christopher Qian lowered the previous record in the 11-12 50 Breast with a 38.77.
Isabella Van Ess took down the three-year-old record in the 13-14 200 Breast with a 2:50.31. She also crushed the three-year-old record in the 13-14 400 IM by almost ten seconds with a 5:17.87.
We Broke 4 Team Relay Records:
11-12 200 Free Relay – Charlie Barker, Christopher Qian, Nathan Bruley, Andrew Char – broke the four year old record with a 2:01.35

11-12 400 Free Relay – Charlie Barker, Christopher Qian, Nathan Bruley, Andrew Char - broke the four year old record with a 4:34.69

11-12 200 Med Relay – Nathan Bruley, Christopher Qian, Charlie Barker, Andrew Char – broke the four year old record with a 2:18.77

11-12 400 Med Relay – Nathan Bruley, Andrew Char, Christopher Qian, Charlie Barker – crushed the nine year old record by almost nine seconds with a 5:02.43.
The Following Swimmers Achieved Time Standard Improvements:
Charlie Barker: AA-50 Free
Nathan Bruley: AA-100 Back
Andrew Char: AA-200 Free
Megan Helge: A-50 Back
Anna Klotz: AA-50 Free
Lauren Long: AA-200 Back; AAA-100 Free
Eric Nguyen: AA-100 Breast
Evelyn Nguyen: AA-50 Free
Reagan Petti: A-50 Breast
Christopher Qian: AA-200 IM
Tyler Rounds: AA-50 Breast, A-50 Free, 100 Back
Isabella Van Ess: AAA-400 IM
Ones in BOLD are the first time standard improvement for that event discipline.
---
COACH MIKE'S CORNER UPDATE: Kaizen – Change Is Good…by Coach Mike
When I was at a swim meet the other day, I saw a team's shirt with an ancient Greek word άρετή, (Arete') which means excellence or virtue; being the best one can be. My college coach loved this word for its philosophy and it sparked an idea to symbolize our team's core covenants of FAMILY – DEDICATION – MENTAL TOUGHNESS. As the old saying goes a "symbol" speaks a thousand words.
Kaizen – Change Is Good
The Japanese word Kaizen came to mind to symbolize our core covenant of mental toughness. Mental toughness means so many things but at its core is the concept of adapting to change with no loss of enthusiasm. Kaizen is all about change, the practice of continuous improvement. One of the most notable features of kaizen is that big results come from many small changes accumulated over time. It is about aiming to find small changes or actions you can make starting today. This is the foundation for making habits stick.
Kaizen can be applied to almost anything we want to be better at in our lives. It goes from day to day actions, work/school environment, social relationship, and sports. It is about becoming a better version of you over time. Change in order to be more capable, efficient and successful in the things you do. This requires discipline, concentration, knowing your strengths and your weaknesses. Getting better at the sport you play requires following the kaizen philosophy and to be patient with yourself. MORE…
---
PARENT'S CORNER UPDATE: The Key to Raising Resilient Children…by Mark Bertin, Sharon Salzberg, and Christopher Willard from www.mindful.org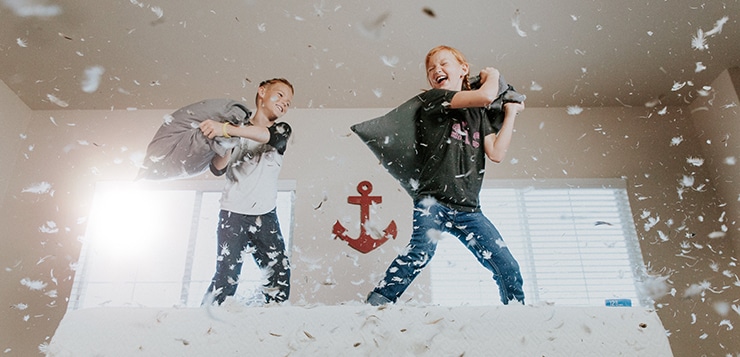 Photo by Allen Taylor on Unsplash
Sharon Salzberg: Do you think it's harder for kids these days? That's sort of the common understanding or feeling.
Mark Bertin: I would say it's a mixed bag. I think some of what we're living with as a culture makes it feel like it's harder for kids. It makes it really frightening to be a parent in some ways and frightening to be a kid in some ways that aren't necessarily real. I think part of it is a lot of the information being fed and the pace at which we're being fed the information make the perception of it seem different.
Then the flipside of that is, certainly, it is obviously a really unsettled, difficult world we're living in. I think there is a reality to the sorts of conversations we need to be having, to the impact of technology and the internet on kids. It's a little bit of both, I think.
Chris Willard: Yeah, I think it's really different. There are new challenges, but there are always technologies (not screen technologies). We know more about child development. We know more about how to build resilience in our kids. We have more tools, but there are more things we need to use them on, because the world is just more complicated and more challenging. All of us who are parents, I think, can certainly see that.
I don't know if it's harder for kids, but I think it's maybe harder for parents.
Mark Bertin: I think just the volume of information parents are exposed to is overwhelming.
Chris Willard: And conflicting information. You can go and confirm what you want about your parenting style, just like you can about any political viewpoint you might have as well, right?
---
NUTRITION CORNER UPDATE: Gut Health Matters At Every Age…
by Dave Asprey
Pediatrician, Michelle Perro #511
Today's Bulletproof Radio guest is Dr. Michelle Perro who is a 37-year veteran of pediatrics in acute care and integrative medicine, which means that she has truly been on the front line of caring for children.
Over the past couple of decades, she has personally witnessed the decline in kids' health and also the increase in the environmental load our children are experiencing. In fact, this issue affected her so much that she wrote a book about it, What's Making our Children Sick. In this podcast episode, we help you understand what's going on inside the children of today and how we can potentially lower their environmental burden.
Dr. Perro is also the Executive Director of the non-profit website, gmoscience.org, which explores the links between genetically modified food, the pesticides that come with them, and how that impacts food, health and agriculture.
---
We are challenged everyday to change ourselves to become the person we want to be!
FAMILY - DEDICATION - MENTAL TOUGHNESS