RAYS BOYS BREAK NATIONAL RELAY RECORDS (15-16)
https://www.swimmingworldmagazine.com/news/mason-manta-rays-break-15-16-boys-400-free-relay-national-age-group-record/
FROM SWIMMING WORLD MAGAZINE: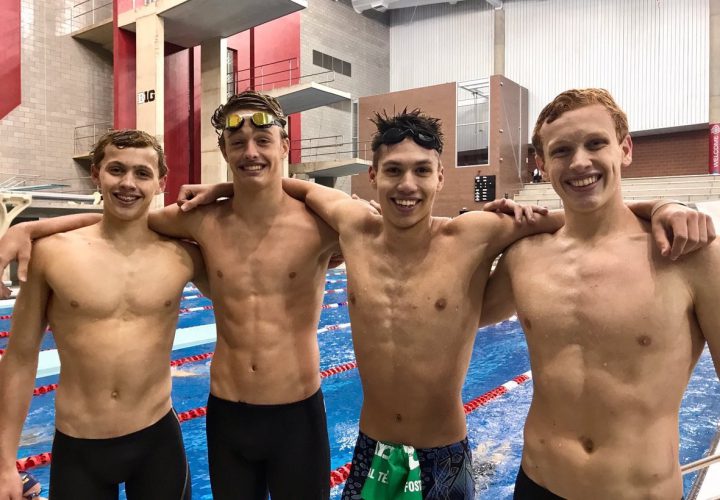 The boys 15-16 400 meter freestyle relay National Age Group record fell tonight in Columbus, Ohio at the Speedo Sectionals Championships.
The Mason Manta Rays team posted a 3:28.28 to lower the old mark by nearly a second.
The old record was a 3:29.18 swum by Upper Dublin Aquatic club in 2014. That quartet was Jake Sannem, Wyatt Amdor, Michael Thomas, and Michael Jensen.
Mason Manta Rays swam the team of Adam Chaney, Jacob Foster, Tyler Babinec, and Carson Foster.
Splits:
Adam Chaney- 25.26/ 26.69 (51.95)
Jacob Foster- 24.68/ 27.54 (52.22)
Tyler Babinec- 25.34/ 28.57 (53.91)
Carson Foster- 23.80/ 26.40 (50.20)
Old Record Splits:
Sannem- 52.07
Amdor- 53.49
Thomas- 52.49
Jensen- 51.13
The team finished second in the event tonight behind the team from Ohio State Swim Club. That team, however, was not just 15-16 year olds.
Results on Meet Mobile: 2017 OH Speedo Sectionals at Columbus.