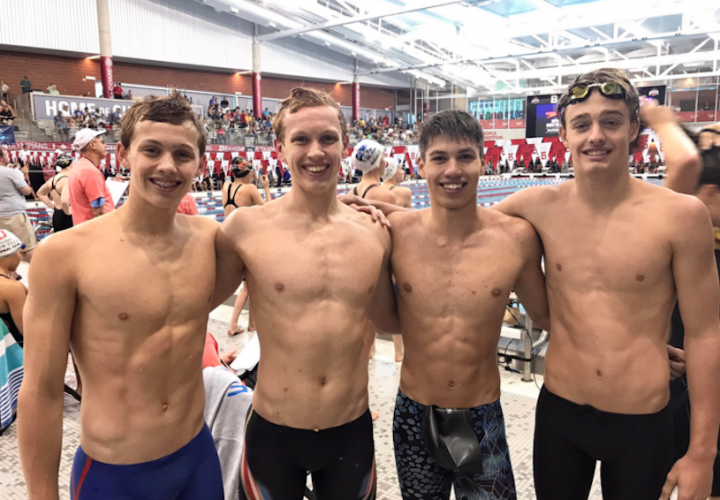 Photo Courtesy: Mason Manta Rays Twitter (@RAYSswimming)
SWIMMING WORLD MAGAZINE: Just two days after breaking the 15-16 NAG record in the 400 free relay, the Mason Manta Rays broke the NAG record in the 200 free relay with a 1:34.09. The quartet of Carson Foster (23.68), Jake Foster (23.61), Tyler Babinec (24.36) and Adam Chaney (22.44) broke the NAG record that was held by Irvine Novaquatics from last year at 1:34.63.
Chaney's split was the fastest split of anyone in the race. The team also featured Carson Foster, who will represent the United States at the World Junior Championships in August for the 200 back. Carson and Chaney are 15 while Jake and Babinec are both 16.
The team broke the record at the Speedo Sectional meet in Columbus, Ohio.
Benjamin Blevins Boor, Hunter Hitchens, Justin Nguyen and Owen Kao were on that old record holding relay from 2016.
The Manta Rays finished behind Ohio State Swim Club in the relay who touched at 1:32.16.