On Line Technique & Dry Land Courses
Kids and Teens are taking their skills and passion for swimming to another level... FROM HOME!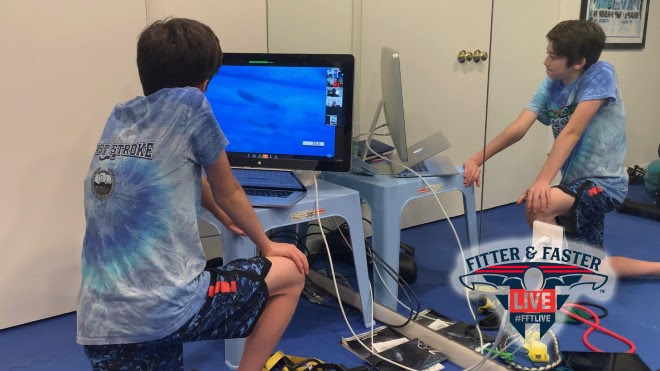 Tens of thousands of swimmers and their families have signed onto Fitter and Faster's FREE live and recorded webcasts since the beginning of the pandemic.
Hundreds of swimmers have also been fully engaged in our small-session, interactive online Stroke Technique Courses and Strength and Conditioning programs! Click the links below to learn more about how our next round of classes will keep your swimmers engaged with the sport and to sign up.
TWO-Week Online Stroke Technique Courses
These courses begin the week of May 25!
These small session, interactive courses are specifically designed to help participants maintain their relationship with the water while developing an in-depth understanding of the movements and techniques required to swim more efficiently and fast.
Each course includes:
Only 12 spots in each class

4 classes over 2 weeks

ONE PRIVATE 1-on-1 session with your instructor

Participants utilize video, out of water exercises, and visualization.

Led by Elite Clinicians including Olympic gold medalists, World Record Holders, and National Champions.

Each class has a different focus on a specific component of the stroke.
FREE GIFT: Everyone who signs up before Saturday May 23 will receive one FREE Arena Mesh Gear Bag, a $20 value!
Click your age group for more details and to register
Online Strength and Athleticism Programs
For Swimmers
SIGN UP FOR THE NEXT CYCLE of online strength and athleticism programs! The first cycle is just ending and has been a HUGE success! Swimmers are reporting feeling stronger and more athletic! The individual feedback from the coaches has also helped the swimmers get more out of each exercise and prevent injury.
This program includes:
12 participants maximum

Each class is one hour long

Specific for swimmers ages 10 & younger, 11 & 12, 13 & 14, and 14 & Over

Participants will be given suggestions for extra conditioning to do on the days that there is no live online class

Each class is designed and led by ELITE Strength and Conditioning coaches with decades of experience training swimmers.
FREE GIFT: Everyone who signs up before Saturday May 23 will receive a FREE Arena Mesh Gear Bag, a $20 value!
Click Your Age Group for details and to register
| | |
| --- | --- |
| | |