Happy Monday VJO Swimmers & Parents!
We have new sections in our Weekly Mailer. Please have your swimmers read through this Weekly Mailer as there are some educational articles and videos for them below that we would like all of our swimmers to read and watch. Please take your Safe Sport Training Course if you have not done so yet. This is very important and we are waiting for all parents and 12 & over swimmers to complete it. Remember to keep up your workouts!
IN THIS WEEKLY MAILER:
*Pool Update
*Weekly Workouts
*Zoom Meeting Info
*Weekly Challenges
*Safe Sport Training
*Must Watch Video
*Nutrition Articles
* Fitter & Faster FREE Webinars
*Dinner Fundraiser
*Guest Speaker Recap
*Solano Swim League Week#3 Results and Team Standings
POOL UPDATE
Unfortunately the Cunningham Pool remodel is now behind schedule and the estimated completion date is July 1st. However, we are working hard to secure other pool space until the time Cunningham Pool re-opens. Our Board and Coaches continue to work with the Solano County Health Department on getting "Lap Swimming" approved in Solano County. We have been working closely with some of the City Councilmen and our teams "Return To Pool Plan" and a letter was presented at the County COVID-19 Task Force Meeting a couple weeks ago. We have been able to get "Lap Swimming" in Solano County verbally approved by the County Health Department, but we are now waiting for this to come out in writing.
When our team is able to get back into the pool for practice all VJO coaches, swimmers and parents will go through a Zoom training to learn all the new practice
procedures
that will be in place. You can be rest assured that safety is going to be our number one concern when returning to the pool. We will continue Weekly Zoom Meetings and half price dues until groups are back into the water. We foresee some of our groups being able to start getting back into the water at other facilities in the next couple of weeks. We will notify everyone when this happens. Thank you everyone for your patience. Go SHARKS!
- Head Swim Coach, Jennifer Thiem
WEEKLY WORKOUT - May 26th- 31st
Below are Coach Jennifer and Coach Maureen's Workout YouTube videos for this week. Coach Maureen and Coach Jennifer will be doing the 12 minute Full Body HIIT Workout Video or the 20 minute Low Impact Cardio & Ab Workout Video 4 to 5 times a week. We will be doing the 10 minute Tabata/Abs Workout Video 3 to 4 times a week. We will also be doing the 20 minute Yoga for Swimmers Video 2-3 times a week to help maintain our flexibility.
Flexibility: Make sure to keep focussing on your flexibility and stretching. New activities and workouts can tighten different muscle groups. Make sure that you are stretching at least 2-3 days a week. Feel free to stretch more if needed.
Additional Cardio Recommended: In addition to the videos, Coach Jennifer goes for a 1 hour walk or bike ride each day with her dog and family. Coach Maureen also hikes with her dog Cali each day. What else will you do to stay active? Make sure to find something you enjoy doing.
Workout Videos:
WEEKLY ZOOM MEETINGS for ALL GROUPS
We will be continuing our Weekly Zoom Video Group Meetings for all groups! The Zoom meetings have been going great and it is wonderful to be able to check in with our swimmers weekly. These meetings will help keep our swimmers connected during these changing times. It also allows our coaching staff to check in with our swimmers and keep them motivated and inspired with their workouts. Each group will have 2 weekly Zoom meetings (every Monday and Thursday). Below is the schedule for each group's Weekly Zoom Meetings.
*** Zoom Meeting login ID's were emailed out to all groups last Thursday 5/30/20 ***
Zoom Group Meeting Schedule:
(Every Monday & Thursday, 45min)
3:00-3:45pm - Hammerhead 1 & 2 Groups
4:00-4:45pm - Junior Group
5:00-5:45pm - Junior 2 & Senior Groups
6:00-6:45pm - Leopard & Mako Groups
WEEKLY CHALLENGES
Solano County Swim League - Week #4 Challenges
We are excited to announce our Week #4 of the Solano County Swim League Challenges. This
Friday, June 5th at 5:00pm will be o
ur next league competitions. Below are the Week #4 Challenges, so our swimmers can start working on them. The coaches will be running through these challenges in our Weekly Zoom Meetings next week.
Week #4 Solano Swim League Competitions
Date: Friday June 5th
Time: 5:00-6:00pm
Zoom Link:
Guest Speaker: This week we will again have a surprise guest speaker joining us on our Zoom. This guest speaker is an Olympian and they will be talking to all our swimmers.. Who could it be? Join us next Friday to find out who our Olympic guest speaker is.
Event # 1 - Swim Trivia Contest
Each team (VJO, SASO & VACA) will compete and answer 10 swim trivia questions as fast as possible. Electronic devises by be used.
Event #2 - Cutie Eating Contest (1 swimmer per team)
Each swimmer must peel and eat 5 cuties oranges, one at a time as fast as possible.
Event #3 - Clapping Crunches Relay (3 swimmers per relay team)
Swimmers will perform clapping crunches as a relay. Teams will include:
10 and under - 30 crunches
13 and older - 50 crunches
Event #4 - Cupcake Decorating Contest "
Swim"
(1 swimmer per team)
Each team will select one swimmer to present their "swim" themed cupcake. Coaches and
swimmers will vote on their favorite designs.
Event #5 - Speed Skaters Contest (3 swimmers per team)
Swimmers will complete as many speed skaters as they can in one minute.
SAFE SPORT TRAINING - PLEASE TAKE ASAP!
We need ALL VJO swimmers and parents to take the Safe Sport Training Course ASAP. We are required to all do this in order to get our team Safe Sport Recognized by USA Swimming. The whole process only takes 10-15 minutes and it is free.
PARENTS:

We need one parent from each household to take the "Parents Guide to Misconduct in Sport". You will do this by registering as a "Non-member". See step-by-step instructions below.
ATHLETES:

We need ALL 12 & over swimmers to take one of the "Safe Sport" courses. You will register as a member. See step-by-step instructions below.
SAFE SPORT TRAINING DETAILED STEP BY STEP INSTRUCTIONS:
MUST WATCH VIDEOS:
NUTRITION ARTICLES:
Below are three great articles for this week all about nutrition for swimmers. We highly encourage everyone to read them! The more education you have about nutrition, the better swimmer you will be.
FITTER & FASTER FREE WEBINARS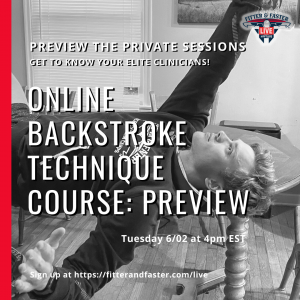 June 2nd - ONLINE BACKSTROKE TECHNIQUE COURSE PREVIEW
(Tuesday, June 2 @ 1:00pm PST)
Led by: Olympic Gold Medalist Tyler Clary and Elite Clinician John Shebat
Come and see what it is like in our online technique courses! We will go over good and bad technique along with ways to fix mistakes.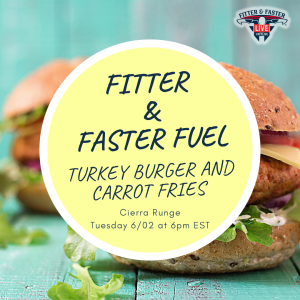 June 2nd - FITTER & FASTER FUEL: TURKEY BURGERS AND CARROT FRIES
(

Tuesday, June 2

@ 3:00

pm PST

)
Led by:
Olympic Gold Medalist Cierra Runge.
Join us to watch and learn as Cierra Runge teaches us how to prepare healthy turkey burgers and carrot fries!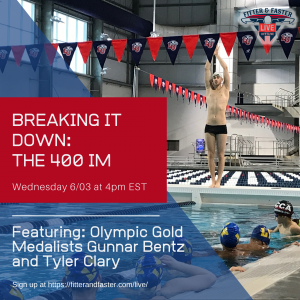 June 3rd - BREAKING IT DOWN: THE 400 IM
(

Wednesday, June 3

@

1:00pm PST

)
Led by:
Olympic Gold Medalists Tyler Clary and Gunnar Bentz
HOW TO TRAIN FOR AND EXECUTE A WORLD CLASS 400IM. Learn from World Class 400 IM'er Gunnar Bents who will be joined by Tyler Clary how to take your 400 IM to the next level through drills and sets!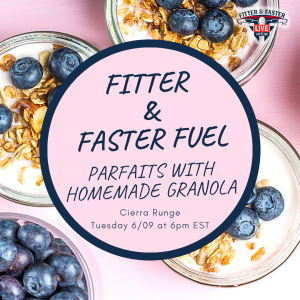 June 9th - FITTER & FASTER FUEL: PARFAITS WITH HOMEMADE GRANOLA
(

Tuesday, June 9

@

3:00pm PST

)
Led by:
Olympic Gold Medalist Cierra Runge
PARFAITS WITH HOMEMADE GRANOLA….YUM!
Join is in an interactive presentation on how to make this easy to prepare and delicious meal. This is healthy and easy to digest fuel that can be easily packed for a swim meet!
JAMAICAN JERK RIBS - VJO FUNDRAISER
DINNER DELIVERY TO YOUR DOOR
***Wednesday Orders Still Open***
Stay at home and have a Jamaican Jerk Rib Dinner for four delivered to your door on Monday, June 1st or Wednesday, June 3rd for $35. Cost will be billed to your VJO account on file. All meals will be delivered between 3-5pm (on Monday & Wednesday) to residences in Benicia, American Canyon and Vallejo. If you do not live in these 3 cities, please contact Coach Jennifer and make arrangements to pick up at the Cunningham Pool. This is first come first serve. Only 10 dinner sign-ups available per day. All orders must be placed by 12pm the day prior.
COST: $35
BILLING: Amount will be billed to team account
DELIVERY TIME: Between 3-5pm
Menu:
Jamaican Jerk Ribs over rice and beans with a mango slaw
(feeds a family of four)
This dinner will been prepared and delivered to you by the Panlilio Family.
100% of the proceeds go to Vallejo Aquatic Club.
Meals will need to be reheated in the oven or microwave. Instructions will be provided.
HOW TO SIGN-UP: Clink the link below to have your dinner delivered. The entire google form must be filled out.
Please contact Head Coach, Jennifer Thiem at
[email protected]
if you have any questions.
Go SHARKS!
RECAP - ALUMNI ZOOM GUEST SPEAKER Alyssa Powell
Last Thursday's Zoom Meeting with guest speaker, Alyssa Powell went awesome! Alyssa talked about "Overcoming Adversity" in many different areas. We received some great feedback from our swimmers and parents and they all walked away with some great insight to what it truly means to overcome adversity as an elite level athlete. Swimmers, remember we love your feedback and it helps us decide who we will bring in as a guest speaker. The more feedback you guys give us the better. If you guys have any topics or can think of someone you would like to have as a guest speaker, please reach out to Coach Jennifer or Coach Maureen.
SOLANO COUNTY SWIM LEAGUE
TEAM STANDINGS & WEEK #3 RESULTS
Below are the totals from Solano Swim League Week #3 Competitions. At the bottom you will also notice the Totals for Week#3 and the Overall Totals for our League up to now. You will notice that VJO had a tie for the Week 3 WIN and is now in the lead overall. Yes that is right VJO is leading the League. We are now in 1st place! Great job swimmers! Keep up the hard work and keep logging into our League competitions to cheer your team mates on.
Go SHARKS!
Rubik's Cube Race
VJO 3 points *Gabe Cueva*
SASO 2 points
VACA 1 point
Pushup Relay 3 participants per relay
VACA 6 points
VJO 3 points *Anna Efe, Raffy Cueva & Zak Raymond*
SASO 2 points
Sit-Up Contest
12 and under
SASO 3 points
VJO 2 points *Dez Panlilio*
VACA 1 point
13 and older
VACA 3 points
VJO 2 points (tie for second) *Zak Raymond*
SASO 2 points (tie for second)

Blindfolded Drawing Contest
12 and under
VACA 3 points
VJO 2 points *Ellen Goncharova*
SASO 1 point
13 and older
VJO 3 points *Sunny Kanzan*
SASO 2 points
VACA 1 point
WEEK 3 TOTALS
VJO 15 points
VACA 15 points
SASO 12 points
OVERALL TOTALS (thru Week 3) ***WAHOOOOO!***
VJO 30 points
SASO 29 points
VACA 26 points
Go SHARKS!
We are all in this Together!
Make sure to take advantage of your time and get better at something each day.
Keep up your workouts!
"Your body is your most priceless possession. Take care of it." -Jack Lalane
Please let us know if you have any questions.
Coach Jennifer Thiem
&
Coach Maureen Orr