Happy Monday VJO Swimmers & Parents!
Make sure to take a look at new sections in our Weekly Mailer (Nutrition & Videos). Please have your swimmers read through this Weekly Mailer as there are new educational articles and videos each week that we would like all of our swimmers to read and watch. Remember to keep up your workouts!
*Weekly Workouts
*Zoom Meeting Info
*Weekly Challenges
*Safe Sport Training
*Must Watch Video
*Nutrition Articles
*Fitter & Faster FREE Webinars
*Dinner Fundraiser Recap
*Solano Swim League Week#4 Results and Team Standings
WEEKLY WORKOUT - June 8th-14th
Below are Coach Jennifer and Coach Maureen's Workout YouTube videos for this week. Coach Maureen and Coach Jennifer will be doing the 20 minute Workout Video Impact Cardio & Ab 4 to 5 times a week. We will be doing the Squat Challenge 100 Reps Video and the Total Core/Ab Workout Video 3 to 4 times a week. We will also be doing the 10 Minute Quick Daily Stretching Routine 2-3 times a week to help maintain our flexibility.
Flexibility: Make sure to keep focusing on your flexibility and stretching. New activities and workouts can tighten different muscle groups. Make sure that you are stretching at least 2-3 days a week. Feel free to stretch more if needed.
Additional Cardio Recommended: In addition to the videos, Coach Jennifer goes for a 1 hour walk or bike ride each day with her dog and family. Coach Maureen also hikes with her dog Cali each day. What else will you do to stay active? Make sure to find something you enjoy doing.
Workout Videos:
WEEKLY ZOOM MEETINGS for ALL GROUPS
We will be continuing our Weekly Zoom Video Group Meetings for all groups! The Zoom meetings have been going great and it is wonderful to be able to check in with our swimmers weekly. These meetings will help keep our swimmers connected during these changing times. It also allows our coaching staff to check in with our swimmers and keep them motivated and inspired with their workouts. Each group will have 2 weekly Zoom meetings (every Monday and Thursday). Below is the schedule for each group's Weekly Zoom Meetings.
*** Zoom Meeting login ID's were emailed out to all groups last Thursday 5/30/20 ***
Zoom Group Meeting Schedule:
(Every Monday & Thursday, 45min)
3:00-3:45pm - Hammerhead 1 & 2 Groups
4:00-4:45pm - Junior Group
5:00-5:45pm - Junior 2 & Senior Groups
6:00-6:45pm - Leopard & Mako Groups
SAFE SPORT TRAINING - PLEASE TAKE ASAP!
We need ALL VJO swimmers and parents to take the Safe Sport Training Course ASAP. We are required to all do this in order to get our team Safe Sport Recognized by USA Swimming. The whole process only takes 10-15 minutes and it is free.
PARENTS: We need one parent from each household to take the "Parents Guide to Misconduct in Sport". You will do this by registering as a "Non-member". See step-by-step instructions below.
ATHLETES: We need ALL 12 & over swimmers to take one of the "Safe Sport" courses. You will register as a member. See step-by-step instructions below.
SAFE SPORT TRAINING DETAILED STEP BY STEP INSTRUCTIONS:
MUST READ / WATCH VIDEOS:
NUTRITION ARTICLES:
Below are two great articles for this week all about nutrition for swimmers. We highly encourage everyone to read them! The more education you have about nutrition, the better swimmer you will be.
FITTER & FASTER FREE WEBINARS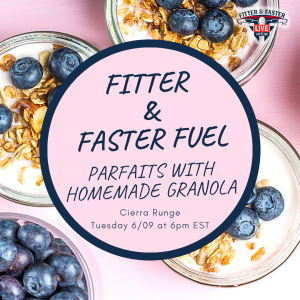 June 9th - FITTER & FASTER FUEL: PARFAITS WITH HOMEMADE GRANOLA
(Tuesday, June 9th @ 3:00pm PST)
Led by: Olympic Gold Medalist Cierra Runge
PARFAITS WITH HOMEMADE GRANOLA….YUM!
Join is in an interactive presentation on how to make this easy to prepare and delicious meal. This is healthy and easy to digest fuel that can be easily packed for a swim meet!
June 16th - FITTER & FASTER FUEL: OVERNIGHT OATS
(Tuesday, June 16 @ 3pm PST)
Led by: Olympic Gold Medalist and Nutrition Specialist Cierra Runge
WANT TO MAKE AN EASY PRE-PRACTICE OR SWIM MEET SNACK THAT WILL HELP YOU SWIM FAST?
This week Cierra will show us how to prepare overnight oats – an easy, healthy swim meet snack!
We get asked all the time what are good foods/snacks to bring to a swim meet or a practice. This is hands down one of the best. Overnight oats are also a great morning snack/meal that you can eat before a morning practice!.
5th VJO DINNER FUNDRAISER - RECAP
Thank you Everyone!
Thank you to everyone that participated in our fifth Dinner Delivered to Your Door Fundraiser on June 1st & 3rd. With your help our team raised over $420. We couldn't do this without all of you. This money will help keep our team going and coaching staff employed during this time. A special "Thank you!" to the Panlilio Family for creating and putting on this event.
SOLANO SWIM LEAGUE WEEK #4
RECAP & RESULTS
Thank you to all our VJO swimmers that participated in last Friday's League Competitions on Zoom. We had a great turn out! A special thank you to our swimmers that represented our team, Louisa McQuilling, Anna Efe, Raffy Cueva, Zak Raymond, Dez Panlilio, Ellen Gooncharova, Alex Grant and Mackenzie Kawashiri (our very spirited team announcer). You guys did amazing!
SOLANO COUNTY SWIM LEAGUE
TEAM STANDINGS
Below are the totals from Solano Swim League Week #4 Competitions. At the bottom you will also notice the Totals for Week#4 and the Overall Totals for our League up to now. You will notice that VJO had a tie for the Week 4 WIN and is now in the lead overall. Yes that is right VJO is leading the League. We are now in 1st place! Great job swimmers! Keep up the hard work and keep logging into our League competitions to cheer your team mates on.
Go SHARKS!
We are all in this Together!
Make sure to take advantage of your time and get better at something each day.
Keep up your workouts!
"The key to success is to focus on goals, not obsticles." -unknown
Please let us know if you have any questions.
Coach Jennifer Thiem
&
Coach Maureen Orr