Doping Control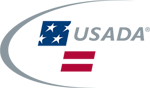 The U.S. Anti-Doping Agency (USADA) is the national anti-doping organization (NADO) in the United States for Olympic, Paralympic, Pan American, and Parapan American sport. The organization is charged with managing the anti-doping program, including in-competition and out-of competition testing, results management processes, drug reference resources, and athlete education for all United States Olympic Committee (USOC) recognized sport national governing bodies, their athletes, and events. Additionally, USADA contributes to the advancement of clean sport through scientific research and education & outreach initiatives focused on awareness and prevention.
Mission: Preserve the integrity of competition - Inspire true sport - Protect the rights of athletes.
Vision: To be the guardians of the values and life lessons learned through true sport.
For more information see the USADA website: https://www.usada.org
Helpful Articles:
2018 USADA Athlete Handbook PDF
2018 USADA Athlete Pocket Guide PDF
2018 USADA Athlete Wallet Card PDF
2018 WADA Prohibited List PDF
2018 Prohibited List - summary of modifications PDF
Five Anti-Doping Highlights for 2018 PDF
Reduce Your Risks - Red Flags PDF
USADA TrueSport Nutrition Guide PDF
Therapeutic Use Exemptions (TUEs) Information PDF
2017 WADA Prohibited List PDF
WADA or World Anti-Doping Agency:
The World Anti-Doping Agency's mission is to lead a collaborative worldwide movement for doping-free sport.
The World Anti-Doping Agency (WADA) was established in 1999 as an international independent agency composed and funded equally by the sport movement and governments of the world. Its key activities include scientific research, education, development of anti-doping capacities, and monitoring of the World Anti Doping Code (Code) – the document harmonizing anti-doping policies in all sports and all countries.
Our Vision: A world where all athletes can compete in a doping-free sporting environment.
Our Core Values: Integrity, accountability, excellence.
The World Anti-Doping Agency's (WADA) Prohibited List is the comprehensive document serving as the international standard for identifying substances and methods prohibited in sport. Mandated by, and serving as a key component of, the Code, the Prohibited List is one of the most important parts of harmonization globally across the anti-doping movement. Broken down by categories, the Prohibited List identifies which substances and methods are prohibited in-competition, out-of-competition, as well as in some cases, by specific sport. The Prohibited List is updated annually following an extensive consultation process facilitated by WADA. The 2018 Prohibited List is valid from January 1, 2018 until December 31, 2018. While the WADA Prohibited List is extensive, USADA is here to help clean athletes understand the rules and regulations set forth by WADA.
For more information see the WADA website: https://www.wada-ama.org/