SC Swimming Partners
Sponsors
Diversity and Inclusion
DIVERSITY AND INCLUSION
Mission Statement
The SCS Diversity and Inclusion Committees purpose is to create, promote, and support programs in South Carolina in creating a culture of inclusion for people of diverse backgrounds to give them the opportunity to learn, compete, and grow in the sport of swimming!
2016 SCS Diversity Select Camp Application and Information
---
SCS Outreach Program
South Carolina's Outreach Program is part of our inclusion efforts. Outreach refers to our program to assist families with the financial demand of swimming.
Midlands swim coach named latest Community Builder
Posted: Apr 01, 2015 10:13 AM EDT Updated: Apr 01, 2015 11:28 AM EDT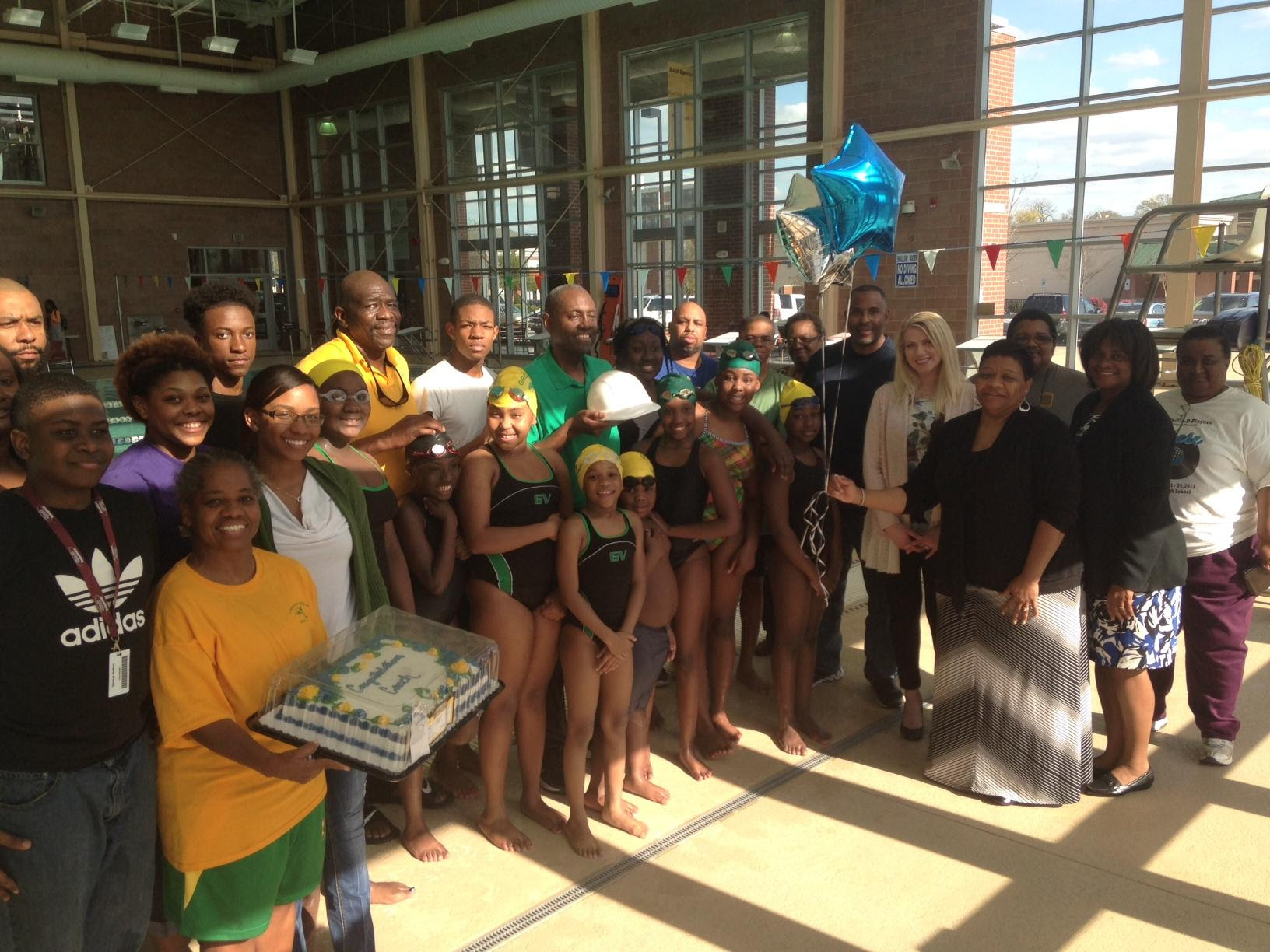 COLUMBIA, SC (WIS) -
One Midlands man has been making a splash in the world of swimming for more than 35 years. Coach Stanley McIntosh's dedication to the sport and to local youth led one of his own swimmers to nominate him as a WIS Community Builder in partnership with Mungo Homes.
"He's done so much for the team, and he has such a big heart for swimming, he was just fit for it," said Adriane Belton, who nominated McIntosh. "I just had to do it."
Belton is one of more than 20 swimmers who participate in the winter swimming season with the Greenview Dolphins at Columbia's Drew Wellness Center.
Coach Stanley started coaching the Greenview Dolphins USA swim team in 1977 and he hasn't come up for air since.
"It was just a summer swim team up until the Drew Wellness Center was built in 2006, and then with access we became a year-round swim team," Stanley said. "We instill in our children anything is possible with hard work, and we push them pretty hard."
Stanley works another job so many of his hours are volunteer.
"This is really a 40-hour job, but they can't afford a full-time coach so I volunteer a tremendous amount of my time," Stanley said. "There's a lot of paperwork that goes along with coaching a USA swim team."
But his efforts and his heart for his swimmers haven't gone unnoticed. Belton and her fellow swimmers say Coach Stanley is one-of-a-kind.
"[He's] spiritual, passionate, loving, caring, would do anything for you," Belton said. "He has a heart of gold. He's everything that you would look for in a coach or in a person to take care of your child while you're not there."
WIS and Mungo Homes surprised Stanley at one of the team's recent practices.
"We've heard of you up at Mungo Homes and all the great things you're doing here at the Drew Wellness Center," said Mary Mungo. "So we're here to let you know that you're this week's Community Builder, and we're going to donate $1,000 to the charity of your choice through the Michael J. Mungo Foundation.
With Stanley left speechless, his swimmers were standing by to cheer him on, returning the favor for what he does for them every day.
Please click this link for a write up and pictorial of our 1st ever Diversity Select Camp!
Swimmer Spotlight: Max Kenneth Wolff
Date of birth March 14 1997

The SC Swimming Diversity/Inclusion committee would like to introduce one of our most impressive members of the SC Swimming family. Mr. Max Kenneth Wolff who swims for the Coastal Aquatic Club (CAC) in Myrtle Beach, SC. Max has competed with the CAC for five years and three years with the St. James varsity swim team. Max was apart of the 2013 South Carolina Zone swim team and competed in 100M butterfly, 100 backstroke, and mix 11-18 100M freestyle.
He practices a minimum of three days a week and attends most meets that CAC participates in. He is a freshman at Saint James High school in Murrells Inlet, SC. He loves swimming and it is great exercise for him.
Max has three sisters that also swim with CAC Ana 15, Kater 13 and Jane 8. Max is also involved with the boy scouts. He camps out about once a month and some of the camp outs involve hiking up to ten miles round trip. Max carries his own backpack and about half the time he is on his own because his dad isn't always able to go. I think Max's ability to hike is related directly to the strength he has built through swimming. Max attends Surfside United Methodist Church and participates with the youth group in many church activities. Max has responsibilities around the house and is in charge of all garbage/ recyclables, emptying the dishwasher, switching the laundry, and unloading the groceries from the car. He also works at his father's restaurant bussing tables serving food or drinks to the tables. He also at times prepares salads and pizzas. He hates being in charge of running the dish washing machine but he does that also. Max has been raised to be independent and responsible.
Downloadable copy of this article with pictures of Max, and Max and coach Fabio--Please click on this link
Diversity/Inclusion Meeting Minutes 10-13-13
Coach Kimi Davidson's National Diversity Select Camp Experience