Swim Groups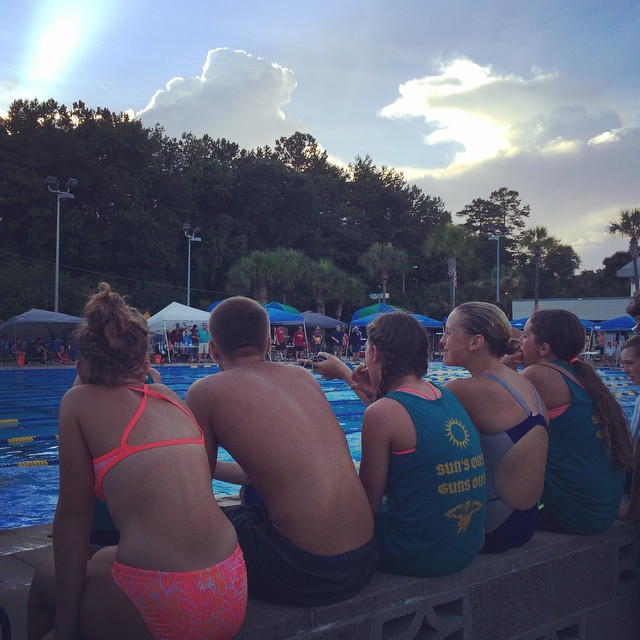 The Gwinnett Aquatics competitive team is divided into five groups. The youngest group is the Blue team for 6-10 year olds followed by the Gold team for older elementary school aged swimmers. The Prep group is comprised of middle-schoolers and finally our High School aged groups are the Senior and SR3 teams.
All groups compete in local meets of varying size and competitiveness roughly every three weeks, while some swimmers go on to compete regionally and even nationally.
Our senior team of just 12-20 swimmers has had at least 2 swimmers go on to swim in college each of the last 8 years and has also had numerous Olympic Trial, National and Junior National qualifiers as well as Gwinnett County HS swimmers of the year. For more information about our groups, check out the chart below.
Please call us at 678-902-6856 to schedule an evaluation, or Click Here to send us an email request for more information.
Senior Team - For HS-aged swimmers. 6-9 workouts each week including mornings before school for selected swimmers.

A family discount of 15% for the second swimmer and 30% for the third is available


Ten payments of $250
(or $2375 annual*)

---

High School Training Group (HSTG) - For HS-aged swimmers not yet ready for Senior. 5-6 workouts each week after school.

A family discount of 15% for the second swimmer and 30% for the third is available


Ten payments of $220
(or $1900 annual*)

---

Prep Team - For aspiring senior swimmers in 5th-9th grade. 5-6 workouts each week from which swimmers should make 4-6 depending on their age and ability.

A family discount of 15% for the second swimmer and 30% for the third is available


Ten payments of $220
(or $2090 annual*)

---

Gold Team - For experienced swimmers in 2nd-6th grades. These swimmers should try to make 3-4 workouts each week, 4 if they are hoping to move into the prep team within the next year.

A family discount of 15% for the second swimmer and 30% for the third is available


Ten payments of $165
(or $1567 annual*)

---

Blue Team For newer swimmers in Kindergarten-3rd grade. These swimmers should make 2-3 workouts each week mixed in with other outdoor and athletic activities throughout the year.

A family discount of 15% for the second swimmer and 30% for the third is available


Ten payments of $110
(or $1045 annual*)