PASA NON-COMPETITIVE PROGRAM
Next Session:  JUNE 6 - JULY 29
Description
PASA offers non-competitive sessions for swimmers who may not want the full rigor of a competitive swim team or are developing the skills for competitive readiness. The Non-Competitive Program sessions are offered in the Fall, Winter and Spring. PASA's focus for this group will be stroke instruction, movement and skill understanding, endurance development, and most of all fun! PASA Non-Competitive swimmers do not participate in swim meets and the families will not have any volunteer hours to fulfill.
You may come as often as you would like, based on school and other activities, and our coaches will help you reach your goals within the group.
Program Details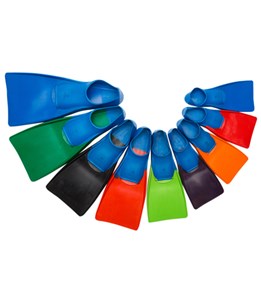 The Winter PASA Non-Competitive Program session will be offered from June 6th through July 29th - Tuesday and Thursday afternoons from 4:30- 5:15pm. They are open to swimmers 9-14 who are capable of swimming 2 of the 4 competitive strokes for 25 yards and have a working knowledge of the other 2 strokes. There will be a skill check (try-out) to establish safety and fit on the first day of class. Swimmers who do not pass, will have their fees refunded and given information on swimming lessons.  We will accept up to 25 swimmers each session.
Swimmers will be using fins each class. We recommend the Titan Fin brand.  They should be full sized, and not scuba diving fins.  A sample image of the fins are shown here:
 
You can purchase the fins through our PASA Swim Store on Swim and Tri
by following this link.
Fees
The cost for this 10 week session is $350.00 plus an annual USA Swimming Membership Insurance fee of $90.00 (total $440.00).  If you decide to participate in more classes during the fall, you will not need to pay this fee again.


Registration Process
You will need to schedule a tryout with the Coach in order to enroll into this program.  Once your tryout is complete you will be provided with a registration link to register online.
Once you are registered, you will receive an email confirmation.  The email confirmation and a completed emergency form and MAAPP Acknowledgment Form must be printed out and given to the coach on the first day of practice.  You can read the MAAPP Policy here  https://www.usaswimming.org/docs/default-source/safe-sportdocuments/maapp/usaswimmingmaapp.pdf.  Due to insurance reasons, your swimmer may not be allowed into the water until these two forms are submitted to the coach.

Lead Coach of PASA Non-Competitive Program
To learn more about our program or to schedule a tryout, please contact Coach Ryan Garica.